Holden Monaro
A full bare metal paint with a V8 transplant and big rear axle conversion. This is going to be a nice car
The Triumphant Stag
We returned this cars dignity as it arrived with a Japanese engine. An original Triumph V8 was imported from the UK and re fitted to the car. A few modifications to the cooling system were required The car runs and sounds as it should.
The Sultan
The beginning of Carkolor's involvement
The Sultan
The beginning of Carkolor's involvement
1971 Corvette C3 We Have just started work on this Stingray we are rebuilding the 350 V8. Replacing all joints and bushes to steering and suspension. Re covering seats, it will have the chassis taken back to bare steel treated and epoxy coated. Of course a stunning red paint job. Watch as we work.
The Sultan The most challenging task we have had to date we were handed this plastic model and asked to build the full scale car for Terry Cooke of Decorides watch and see as we progress!!
Military Jeep T​his one is in very original condition. We will be stripping every last bolt down to the bare chassis. Rebuild the original engine and box and then begin full rebuild and repaint.
Pontiac Bonneville Soft top. A pretty rotten old Bonny. All panels hand fabricated in our shop.
The iconic 1934 Ford Coupe used by cops and robbers alike, fitted with a small block V8. We painted it in two tone candy.This one made a stunning Hot Rod​
Willys Jeep from scratch.
One of the many Jeeps we have built.. Experience has taught us to remake all panels . We used Isuzu 3.0l turbo diesel 4WD setup for this one incorporating discs all round , power steering etc.
CJ Jeep We can remake a Jeep to your particular requirements. This one has lots of personal touches. Made with our tried and tested Isuzu 4WD set up.
Hand Crafted Jeep ​​​ Completely hand made body in steel finished with a quality canvass top Isuzu 3.0 turbo diesel drive gear. Disc brakes all round and power steering on the modified Jeep chassis. This made a wonderful useable car.
Rustang challenge.
Even we cringed a little faced with this restoration by far the rustiest Mustang I've ever seen. We often make our own panels but as everything is available of the shelf we cheated and bought them this time.
1958 Cadillac ​​
As you can see from the progress pictures this Caddy is right back to the bones. We stripped the body and chassis back to bright steel. The chassis is now epoxy coated and ready to be re fitted with all new mountings and brake pipes. The whole process including all chromework and new leather interior and rebuilt 390 engine and gearbox to complete in 5 months.
1969 Dodge Charger R/T​​ The true muscle car used in the series Dukes of Hazzard known as General Lee. This one has the 426 Hemy engine
Radical Blow out​​ This car powered with it's Hyabusa engine had a high speed blow out! The tyre came up through the arch making considerable damage.
watch how we progress.
1965 Mustang Coupe This Coupe has had major engine modification putting out approx 700hp. The owner has spent many years building this car. We are doing a candy anthracite paint job.
1959 Cadillac Coupe De Ville 2 Door.This car is the epitome of high wings and lashings of chrome​. The must have car for any succesful businessman in the 50s and 60s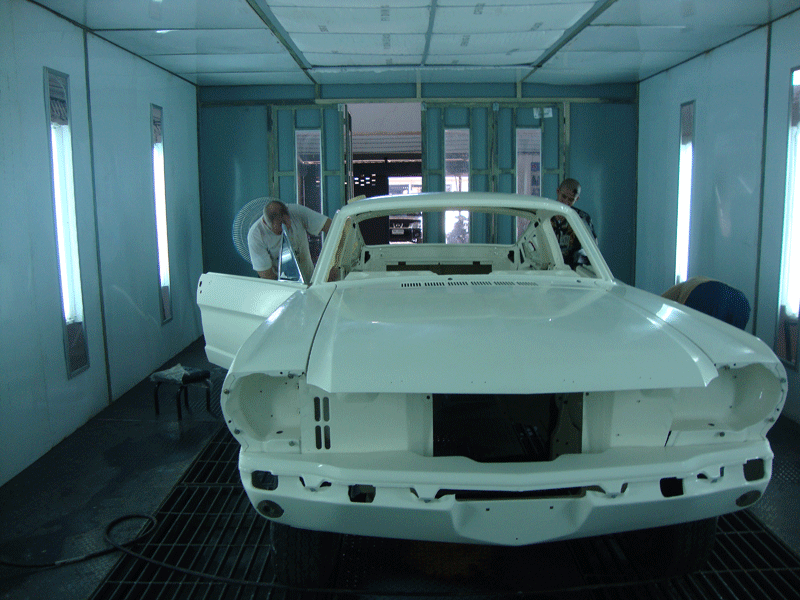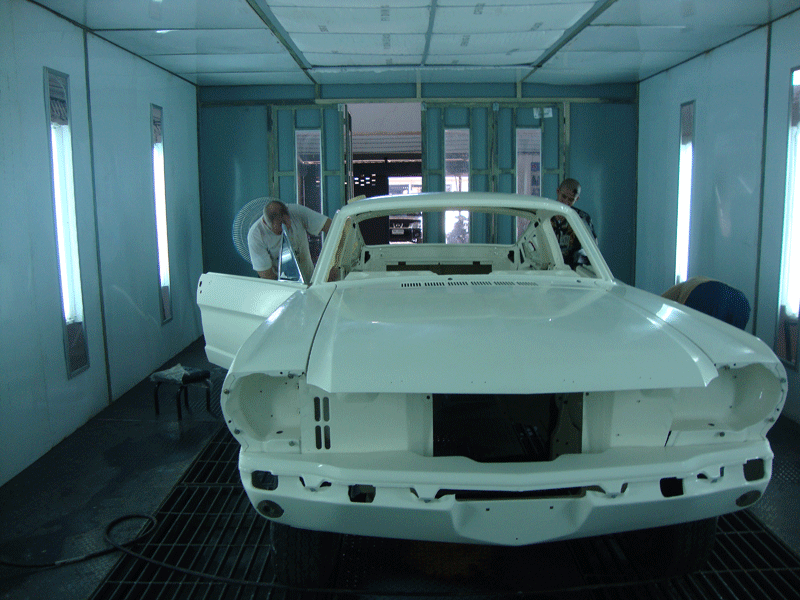 1965 Ford Mustang Fastback ​​​ This model is sought after as it was the first of the Mustang fastback. Later coming to fame with the 67 model in Bullit starred by Steve McQueen. We put this one back into it's original colour Wimbledon White.
Dodge D200 Crew Cab This vehicle came to us in terrible shape, we manufactured many new panels and fitted new front wishbone suspension system and a Nissan 4.5 V8
1970 Mustang Fastback This will be a nice project. We are making some body modifications adding scoops, strip all old paint and refinish in Eleanor grey. Rebuilt 351 and new wheels. Watch as we work
1968 Mini Speedwell Type ​​​ We are restoring this old mini but giving it a new look de-seaming and roof chop in the old Speedwell style. We will be fitting a 13 i mini cooper engine and gearbox and polished wood dash. The picture above is an example. Watch the slideshow as we work.
1973 Camaro
A rare find! We are building a 383 stroker for this car so it needs a big axle and modern drivetrain and suspension. Loads of welding as usual and then a candy wine paint job and some big wide wheels.