CADILLAC 1959 Coupe De Ville
The Charger with it's huge power engine is renowned for it's rear quarter panel damage from sideswipes. They have subtle curves which are very difficult
to shape. This one in black shows our dedication to achieve perfect shaping, many many hours of checking
and re-shaping.A stunning example of
this Classic Muscle car
This car had suffered damaged panel work in an accident, The major task was repairing the fiberglass panels and putting strength back and then making a pefect colour match.
FORD MUSTANG FASTBACK 1965
The body work on this car was already in good shape a rare numbers matching car,
We re-painted inside outside and underneath including all suspension parts and axle etc.
The owner of this car has an engineering background and did all the mechanical restoration himself. He had tried a few garages for body work before coming to us.
I.m happy to say we finished to his satisfaction .
Here are a selection of cars restored by Car Kolor No matter what Marque, what model,
Car Kolor will restore your car to it's former beauty. Alternatively we will be happy
to build the car of your dreams just the way you want it to be. Custom car, luxury car,
hot rod.fun car or stretch limo. Come and talk to us.We will also renovate your car
parts or motorcycle parts, repaint,
chrome or powder coat.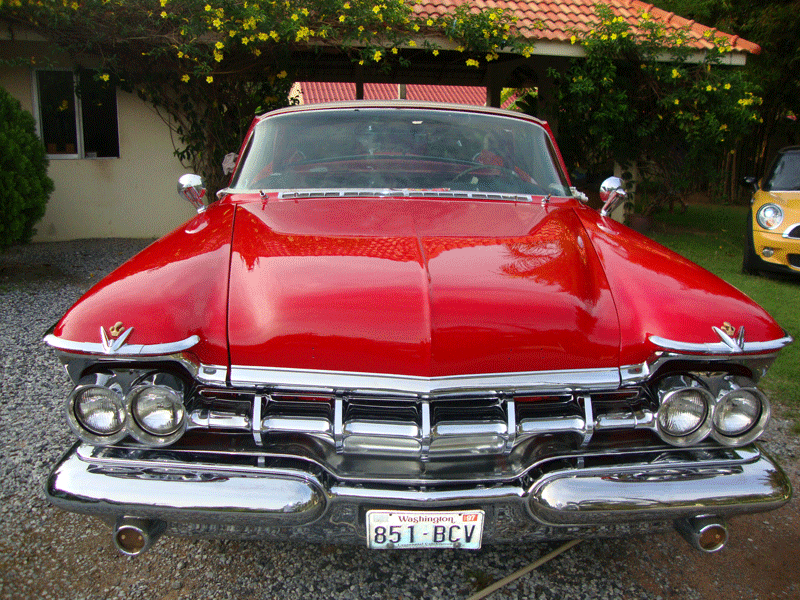 More like the size of a boat than a car the huge straight panels are notoriously hard to get right while shaping! This one in black which shows every imperfection was painted twice fault finding before it's final gleaming finish coats.
A difficult restoration This car had spent time in another bodyshop and the
quality of work was poor. We removed
all paint inside and out back to bare
steel, cut out all previous
welding and started fresh.
The finished car looks beautiful
and the customer was very happy.
This car had received heavy modification
in another garage,The front made longer
and the rear shorter. We manufactured
new doors from scratch, we made new
rear bumper and lowered the rear wings
and cut louvers into the front wings.
Overall a successful transformation
​
We painted this car in a three stage system
to achieve the beautiful purple candy finish and then air brushed in the flames in red
blue and yellow candy.
We are always making at least one
Jeep we find a donor which is generally
in very poor shape, we then manufacture
all panels in house and modify the
chassis to give a modern ride with good steering, brakes etc.Often using the
3.0L Isuzu Turbo diesel 4wd set up
A very successful restoration we re-sprayed every mm inside outside and underneath re-chromed all chrome work. A job like this gives us huge pride and satisfaction.